01 Aug 2019
Joshua open to the journey
The Southern Cross newspaper – August 2019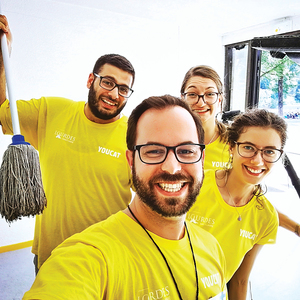 Spending three months in Lourdes, France, helping young people to engage more with their faith is proving the perfect way for Oblate seminarian Joshua Nash to strengthen his commitment to God and his calling to become a priest.
Joshua, who was born and raised in Adelaide, is currently volunteering in a pilot project for youth evangelisation being run by YOUCAT (Youth Catechism of the Catholic Church).
"There are seven of us from all over the world here in Lourdes and we are out in the shrine every day promoting the work of YOUCAT and engaging young people in their faith by running workshops, picnics, family days and youth evenings," Joshua told The Southern Cross.
"We are trying to provide opportunities of catechesis for young people to discover more about the foundation of their faith, which then is partnered beautifully with the devotional and spiritual aspects of the shrine in Lourdes."
Joshua, 28, said he hoped evangelisation would be a focus of his work when he is eventually ordained a priest.
"I love the many opportunities that I am blessed with as a seminarian to go to and to mission in many different places; from schools and parishes to prisons and even on the streets. My hope for the future is obviously to be ordained a priest and to make my perpetual oblation as an Oblate of Mary Immaculate.
"I very much hope to work in Australia because I truly believe we are a mission country in great need of evangelisation."
Joshua said he was first drawn to the charism and mission of the Oblates through his family's attendance at Mass at St David's Church in the Tea Tree Gully parish.
"Growing up there I don't think we ever really knew the difference between a religious and diocesan priest, let alone about the Oblates. But the priests we had were always so friendly and engaging. They came to our home to share dinner with us. They led us through all our sacraments. They always preached well and our family always had a deep respect for them."
After finishing high school Joshua studied law and international studies, with his goal to "help those who were less fortunate than myself".
He spent time with the United Nations in South Africa working with refugees and this, coupled with a pilgrimage to World Youth Day in Rio de Janeiro, led him to consider a different pathway.
"This WYD experience came at an opportune time when I was questioning whether to return to law, to move back to Africa, or to work for the Church instead. God appeared in my messiness and showed me the path to follow.
"It was not a difficult decision to enter the seminary, but it was a big decision to make and I spent an entire year in discernment before I made the final decision. Even my time now in the seminary is a constant time of discernment."
And Joshua's advice to any young man who believes he is being called to a vocation as a priest?
"Firstly, to anyone who is trying to figure out their purpose in life – be open to God, let Him surprise you and let Him take you on an adventure where you would have never dreamed of going. Be open to a journey and be open to a relationship with all its ups and downs.
Secondly, I would say pray a lot, attend Eucharist regularly, receive spiritual direction and take some time (days, weeks, even months) out of your regular daily schedule to go to new places and meet new people and see how God is revealing himself to you through those people.
"Lastly, be courageous and make a commitment. Do not wander and wonder through your whole life. Take a chance on something and give it a try."
Picture: Joshua Nash (front) with YOUCAT members in Lourdes, France.