04 Aug 2019
Discovering God's will
Vocations Awareness Week August 2019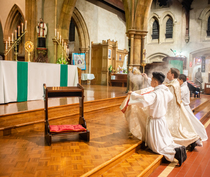 I suspect that most Catholics at some point in their lives have had a thought cross their minds: 'what if I'm called to be a priest or a nun'. I'm guessing it's probably happened during a boring homily alongside the thought, 'I bet I could do better than this'.
For some of us, though, this question becomes more than just a curiosity or a comical distraction in church. 'What if I am being called to be a priest or a nun?'
05 Aug 2018
God's vocation for us is a call to joy
Vocations Awareness Week August 2018
In speaking about the World Day of Prayer for Vocations, Pope Francis remarked: 'It is beautiful – and a great grace – to be completely consecrated to God and the service of our brothers and sisters.'
The vocation which God has prepared for each of us is, at its heart, a call to joy: a beautiful and a great grace. I think the Pope reminds us of the joy of God's call because it is something we can easily forget.