Married Life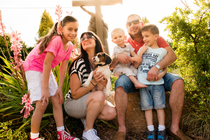 In a Catholic context, marriage is more than falling in love and living happily ever after! The Church teaches that married life is total, free, faithful and fruitful. This means that the couple commit the whole of themselves, without pressures or coercion, to the other person only, with openness to childbirth. Marriage is a serious commitment to another person. And as a married couple raise their family, they have the opportunity to reflect God's love in their love for each other and their children.
"Within the family, "which could be called a domestic church" (Lumen Gentium, 11), a person begins a Church experience of communion among persons, which reflects, through grace, the Mystery of the Holy Trinity.
"In a family, a person learns the effort and the joy of work, fraternal love, and generosity in forgiving others — always renewed — and above all divine worship in prayer and the offering of one's life" (Catechism of the Catholic Church, 1657)."
— THE VOCATION AND MISSION OF THE FAMILY IN THE CHURCH AND CONTEMPORARY WORLD (LINEAMENTA, 2014)
____________________________________

"The image of God is the married couple: the man and woman; not only the man, not only the woman, but both together." – Pope Francis (General Audience, April 2, 2014)
Embracing vocation of marriage
Belinda Maric and Andreas Fusco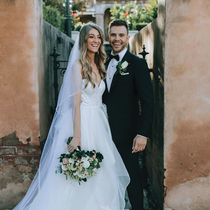 When Belinda Maric married Andreas Fusco in St Patrick's Church in May it was a wonderful celebration with friends and family but above all, it was the couple answering their call to the vocation of marriage.
"It can sound cliché but it felt like the natural progression for us," said Belinda, who is coordinator of Events and Special Projects for the Archdiocese.