01 Aug 2018
US nun brings her Earth mission to Adelaide
Sr Gail Worcelo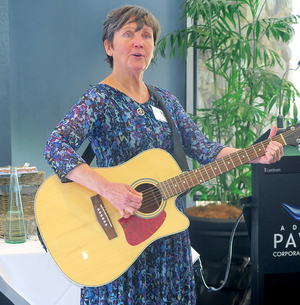 Growing up in Brooklyn, New York, Gail Worcelo spent many hours with her Polish grandmother tending the Morning Glory plant growing on the fire escape of their second floor apartment.
It was a rare opportunity for her to connect with earth in the "concrete jungle" of Brooklyn and it had a profound effect on the aspiring young ballet dancer.
Now living at Green Mountain Monastery in Vermont, where she co-founded what is believed to be the world's first religious community dedicated to healing and protecting Earth and its life systems, Sister Gail recalled her childhood in Brooklyn in an interview with The Southern Cross last month.
She was in Adelaide to address a gathering of the consecrated in the Adelaide Archdiocese as part of a national speaking tour which included a presentation to Catholic Religious Australia at its annual conference.
Sr Gail opened her address with a poem about "growing downward" towards earth and asked them to think of "moments of grace" when this had occurred in their own lives.
She also used dance and music to help deliver her message of healing Earth and its life systems.
"The arts have a lot of power to open up views and change consciousness because they are non-verbal and touch people at the heart," Sr Gail said.
"Dance really moves people, it can be a form of social activism."
Sr Gail's love of dance began at a young age and at one stage she seemed destined for a career in ballet or the theatre but her religious vocation had taken shape much earlier and never left her.
"I was on a school trip in second grade with my grandmother and we were on a boat going to an amusement park," she recalled.
"The school was run by the Mercy Sisters and when my grandmother took me to the cafe level of the boat for a hot chocolate, at one point all the Sisters came down the stairs into the cafe and sat in a circle at the centre of the space. I looked over and just knew that I wanted to be one of them.
"Even though I loved dance, I had this lightning strike at seven years old and it never really left."
In the 1980s Sr Gail studied with Carla DeSola, regarded as the founder of liturgical dance, and she became a choreographer of this style of dance.
She also joined the Passionist nuns, a monastic community of women, and attained a Master's degree in Christian Spirituality from Fordham University. During her novitiate she met Thomas Berry, a priest in the same congregation, who gave classes on the universe story and the role of humans in that story.
A cultural historian and self acclaimed 'geologian', Fr Berry continued to be her mentor and along with another Sister they co-founded Green Mountain Monastery and the Fr Thomas Berry Sanctuary, a new community in the Church dedicated to healing of Earth and its life systems.
Fr Berry, who died in 2009, wrote a paper in 1994 entitled: Women Religious: Their Future Role in which he said that when you look historically at the founding of religious communities over time, they were all established to meet the needs of the human community. There are schools, hospitals, social works – a whole array of responses to meet the needs of the human community, Sr Gail explained.
"There has never been a community founded to address the needs of the planet and its life systems…so Thomas Berry worked with us to found such a community.
"Thomas used to say, imagine Earth as a life boat and if the life boat sinks then all of our ministries will be for nought, as the very basis for the support of our work is Earth itself.
"So we orient towards ways we can protect the planet and go forward with a new consciousness of communion with the sacred community of life."
With five Sisters from three different countries and a number of women discerning their vocation to the community, Green Mountain Monastery is an international community and Sr Gail hopes the mission will spread to many countries.
"It's a whole way of life," she said.
"We try to model the mission of 'Earth, healing and protection' at every level; the monastery and ourselves are coherent with the mission. For example we grow all of our food organically, we keep a vegetarian diet, we don't participate in the food industry where animals are mistreated, all our energy is from solar panels and there is a commitment to be chemical free."
Set in 160 acres of "beautiful" forest on the border between the United States and Canada, the community incorporates sustainable architecture and heating from energy-efficient wood stoves.
Acknowledging that city life wasn't always as conducive to connecting with earth, Sr Gail said people could find ways of "growing downward" through listening to the voices of beings other than humans, tending plants or simply "taking your shoes off and standing on the grass in a park".