Final vows for Sr Tram
Sr Tram Nguyen OP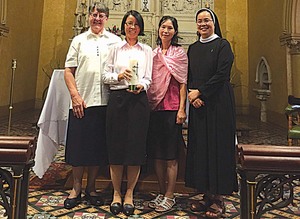 "I had waited for this day for a long time, but I also understood that my commitment would not be for one day only, it would be for life," she said.
"I chose as my motto the word 'yes' and I had it engraved into my ring to remind me to always say 'yes' to God."
Raised in Vietnam, Sr Tram said she had received much support from the Sisters, friends and family during her faith journey. Although her mother, sister and brothers in Vietnam were unable to attend her special day, she knew they were all "thinking of me and praying for me".
"Fortunately my younger sister, who is also a religious sister in Vietnam was given permission to share the celebration with me."
Within the congregation, Sr Tram "prepares meals and prayers" for the Sisters and tutors students in mathematics.
She also continues to raise money to help cover the school fees of some children in Vietnam so that they can continue their education.
"As someone who grew up in Vietnam I have a good understanding of the suffering of the poor in Vietnam and the importance of children's education.
"I wanted to do something to help the Vietnamese people because living in Adelaide I have received many blessings and have had the opportunity to pray, to study and to work as a member of my Dominican religious community."
Photo: Sr Tram Nguyen (second from left) at her final profession with, from left, Sr Noreen Reynolds, her sister Thuong Nguyen and Sr Thuy.