Boyhood wish comes true for Fr John O'Doherty OMI
Fr John O'Doherty OMI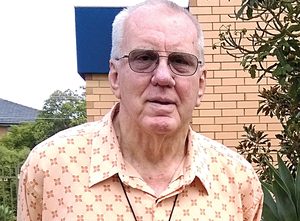 By Jenny Brinkworth
From an early age, Brisbane-born John O'Doherty OMI was attracted to the life of a missionary but it wasn't until he was in his mid-20s and embarking on a career in the insurance industry in country New South Wales that he decided to do something about it.
Working for the South British Insurance Company in Casino, John attended a parish mission conducted by three Oblates of Mary Immaculate, one of whom was the director of vocations for the order.
Speaking on the eve of his 50th anniversary as an Oblate, Fr John said from grade five in primary school the priesthood was "in the back of my mind", but it wasn't until he met the Oblates in Casino that he began to ask the question "how do I know if this is for me".
"Their (the Oblates) answer was, 'you just have to try it'," said the 83-year-old assistant priest at St Pius X Dernancourt.
The rest is history!
Fr John began his novitiate at Sorrento, Victoria, and after taking his first vows was sent to join other young Australian Oblates studying at a seminary in South Africa.
After three years, Fr John returned to Australia to enter the new Oblate Seminary of St Mary's in Mulgrave, Victoria. At the age of 33 he was ordained with a number of diocesan priests at St Patrick's Cathedral in Melbourne on July 22, 1967.
His first posting was to Hillcrest parish in Adelaide in 1968 then after two years he was appointed director of novices at Mulgrave and in 1979 he became the first parish priest of Rosebud on the Mornington Peninsula.
An interest in Indonesia resulting from his studies of the Indonesian language and culture at Monash University prompted him to volunteer as a missionary to that country. He was officially appointed to the mission in October 1982, marking the beginning of a 28-year ministry which he described as a "great privilege".
Another highlight of his priesthood was his involvement in the Oblates' animation team in Aix en Provence in France. As an animator of retreats at the order's foundation house for six years, he spent three months each year directing groups of Oblate missionaries from different parts of the world.
Living in France, he had the opportunity to visit Lourdes "quite a few times". "Each time I have gone to the baths, my prayer has simply been, 'Lord give me the strength and energy to be able to continue serving the people of God where ever I might be'," he said.
Fr John, who refers to himself as now in "reduced active ministry" rather than retired, has been based at Dernancourt since returning from Indonesia in 2011. He has taken on various pastoral roles, including sacramental programs, school Masses, training of altar servers and other priestly work.
Fellow Oblate Fr Ian Mackintosh described Fr John as "a wise, totally dedicated, prayerful priest and his deep faith is appreciated by the parishioners".
Fr John celebrated his 50th anniversary at Mass at which Archbishop Wilson presided, in St Pius X Church on July 23.