21 Dec 2016
Mass app launched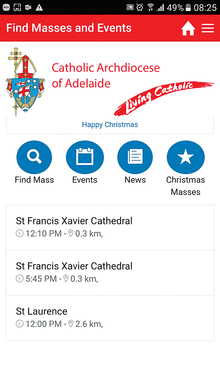 Find a Mass instruction video - click here
Mass app launched – The Southern Cross December, 2016
The age old excuse of not knowing what time Mass is on no longer exists thanks to a new app launched by the Catholic Archdiocese of Adelaide.
The Archdiocese is believed to be the first in Australia to link a mobile phone's global positioning system (GPS) and the time of day to give the user the next available Mass services nearest to their current location.
The app also includes Christmas Mass times, news and events, with the user able to filter what sort of information they receive.
Adelaide Archdiocese communications director Jenny Brinkworth said while the app was limited to South Australian churches, there was strong support at a national level to provide nearest Mass centres and times anywhere in Australia.
She said there was also scope for parishes to use the app to notify parishioners of local news and events.
The app can be downloaded from the Apple and Google Play stores for free. (Search the stores for Adelaide Mass app or via the internet at tiny.cc/massapp.) It was developed by local firm DirectComms.
Ms Brinkworth said mobile phones were becoming the major source of information for many people and the app would assist people when they were "out and about".
"Many Catholics aren't able to attend the same church every week because of work and social commitments; the app will help them to find a Mass nearest to them at any time, as well as to plan ahead by searching a suburb or town," she said.
"It will be a great addition to our suite of existing communication tools such as our website, Facebook page, The Southern Cross newspaper, e-newsletters and church bulletins."