11 Aug 2016
Vocations Prayer Vigil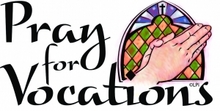 Friday August 12, 2016
The Prayer Vigil will begin with Mass at 5.45pm in St Francis Xavier's Cathedral, Victoria Square Adelaide, and will incorporate Adoration and Benediction.
Supper will follow in the Cathedral Hall, adjacent to the Cathedral at 7.30pm.
All welcome.
For more information please contact Robyn Carroll, Archdiocesan Events Manager, Ph: 8210 8220 or by email.