11 Aug 2016
World Youth Day Krakow 2016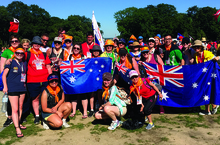 Southern Cross August 2016
Historic Aussie gathering
By Jenny Brinkworth
In the biggest gathering of Australians in Poland, more than 3000 young Aussie Catholics, 19 bishops, 120 priests and 39 Religious celebrated their faith in the Tauron Stadium on the first day of WYD Krakow last month.
More accustomed to hosting Justin Bieber or Pink concerts, the massive stadium holds 20,000 people and was one of the main venues for the event, with the temporary name of 'Mercy Centre'.
Australia's Ambassador to Poland Paul Wojciechowski welcomed the rowdy WYD participants and said it was the largest group of Aussies to ever gather in Poland. He said there would be many pilgrims who, like him, had Polish heritage and he urged the youth of Australia to build a better Church and a better world through their experience at World Youth Day.
Sister Elizabeth Young from the Port Pirie Diocese was one of the stars of the show, telling her story of how she turned from farm girl and daughter of a minister to circus performer and then Religious life. She told of her decision to write a daily journal of small acts of mercy to highlight that being merciful wasn't always something hugely significant.
"I decided to go on an expedition to discover mercy in all the crevices… every day I have recorded an act of mercy in some very familiar sites – the pizza delivery man returning a single dollar, a student forgiving an unkind friend, a prison officer asking us if we would like to move to a nicer space…," she said.
Several bishops addressed the crowd with Wilcannia-Forbes Bishop Columba Macbeth-Green receiving loud cheers from his diocesan pilgrims when he spoke of his Order of St Paul the First Hermit which was founded in the Polish town of Czestochowa.
At the conclusion of the Mass the relics of five Polish saints, including St John Paul II, St Faustina and St Maximillian Kolbe were brought to the altar in silence.
Bishop Mark Edwards, the Australian Catholic Bishops Delegate for Youth and an MC at the gathering, spoke about the Year of Youth at a media conference, saying it would build on the legacy of World Youth Day 2008 in Sydney.
To be held in 2018, Bishop Edwards said the anniversary of WYD08 provided an opportunity for prayerful discernment across local youth ministry in Australia and the upholding of the dignity of young people from a physical, emotional and spiritual perspective.
He said Australia was a very secular country and it could be quite difficult for our young people to stay engaged with their faith and to find a community that supports them in their faith.
"We want to say to young people and ourselves that WYD08 was really important and we are discussing how we can go forward from that," he said.
Read the World Youth Day 2016 wrap up in the online version of The Southern Cross newspaper - out August 15, 2016
Read Southern Cross editor Jenny Brinkworth's WYD blog - click here and then scroll to the bottom to start reading from day 1.