29 Nov 2019
Diaconate Ordination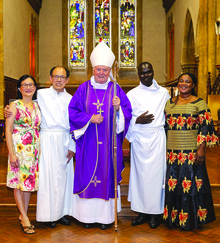 Aspiring deacons inspire others
In a major shift from his days as a pharmacist where the approach was "a pill for every ill", aspiring deacon Tee Ping Koh's now hopes his ministry as a hospital chaplain will show patients how God's love can help them in their time of need.
On March 24 Tee Ping was installed as a Lector and Acolyte, and together with Alfred Donat from the African Catholic community both were admitted to diaconal candidacy by Apostolic Administrator Bishop Greg O'Kelly SJ.
While both men are on the same journey to becoming a deacon, they come from very different backgrounds.
A pharmacist by training, Tee Ping is now helping the sick in another way, as the Catholic chaplain with the Flinders Medical Centre.