05 Jul 2016
National Vocations Awareness Week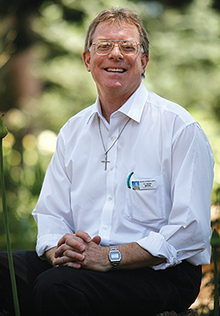 Romero's story is one of incredible courage in following the call of Christ, not just once, but in being open again and again to respond in a new way. We know that originally as a priest and archbishop he was well connected to those in power and was considered to be conservative in his religious views. This changed as he experienced the murder of one of his priests after advocating for the poor. It was Christ in the poor and oppressed people of El Salvador that he defended and in his preaching he became their voice, a voice for the voiceless.
Blessed Romero presents a real example of the words of Pope Francis earlier this year in his Message for World Day of Prayer for Vocations: "At the root of every Christian vocation we find a basic movement, which is part of the experience of faith. Belief means transcending ourselves, leaving behind our comfort and the inflexibility of our ego in order to centre our life in Jesus Christ."
And so at this time of vocational awareness we are reminded of the unique call of God that comes to each of us as baptised Christians. We are all anointed with the oil of chrism to become "other Christs" in our world. Each of us is called to an intimate relationship with Christ, each of us is called to belong to the people of God and each of us is called to holiness of life and a unique mission of witnessing God's love in the world.
The call of Baptism is then deepened and specified in the call to marriage and family life, single life, priesthood, diaconate, religious life or to pastoral ministry in the church (called lay ecclesial ministry). All vocations are equally precious in the eyes of God and needed in the Church. Indeed, all vocations complement each other by way of service for the mission of witnessing to God's kingdom. In practice we see this in our parishes where priests work together collaboratively with lay people as pastoral associates or pastoral directors and at times with religious sisters and brothers and all seek to call forth the unique contribution of the whole community. As an archdiocese we are committed to calling forth all the vocations and seeing them work together.
During National Vocations Awareness Week let us follow the call of the Lord, each in our unique vocation. Let us also pray with confidence for our young people that they will hear the mysterious call of God to them in their lives. Let us not be afraid to be God's voice to them in encouraging them to follow Christ. In particular let us pray for an increase in vocations to the diaconate, priesthood and religious life.
Fr Dean Marin is director of the Adelaide Archdiocese Vocations Centre