Why I'm a Priest – by Fr Dean Marin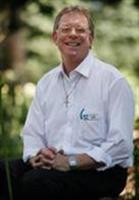 I first felt called to the priesthood as early as primary school. From that time onwards, I've had this feeling inside that this is what God wants me to do. It's hard to rationalise, but it's something I can't deny. Where did it come from?
I feel that God's call came to me through the people in my life, especially my parents.
One of my earliest experiences in life was as a young child running through the house looking for my mother. Eventually I found her, kneeling beside her bed, with beads in hand. Everyday my mother would take some time out to go to her room and pray the Rosary.
Faith was at the centre of her life. The Faith was a big part of our family life, going to church, Catholic schools, and being involved in parish and school activities. Dad always believed, but for a time he didn't go to church that much as he was often working on the weekends.
I was doing matriculation at CBC in 1970, when Mum became sick. Hepatitis, we all thought, but it was more serious than that. It was liver cancer. Mum died on December 29, 1970.
It was a time of sadness, but more than that it was a time of confusion, not knowing what to do, how to react or how to feel. I remember the day of the funeral. In the midst of the confusion, God was present. I just could not believe that my mother, who had been so good, so loving to her family and others, could just die, and that was the end of her. She had to live on. Her love, her goodness, her spirit had to continue in some way. They could not just stop. There had to be a God, eternal life had to be real, and all the things that I'd been taught about faith, had to be true. God came to me through my mother, and even in her death. I entered the seminary the next year.
Both my parents were born in Italy, in the Province of Treviso, which is north east of Venice. My mother came to Australia with her parents when she was about 14. My father came to Australia with his brother when he was about 19. I now understand why my father came to Australia. It was for the future of his family. Like many migrants, my parents came here to build a better future, not for themselves but for their children. I grew up experiencing the faithful dedicated love of parents who were committed to family and a future not their own. Even now, though both have died, they are with me still and remain my greatest source of inspiration and strength. From their example, I've learnt how to live for God's family and for God's Kingdom.
Getting back to my teenage years, it was the 60s and I was crazy about rock music, and the Beatles in particular. I still remember the day our oldest brother brought home the 45 rpm record of "I Saw Her Standing There". We played it and played it. I was hooked. I clearly remember the night my brother came to get us out of bed to see the Beatles as they appeared live on the Ed Sullivan Show. I couldn't believe it. Not just the music, but the confidence, youthfulness, enthusiasm and idealism rang bells inside me. I wanted to make a difference, change the world, do something really worthwhile that would last. But somehow even at the time, I can remember thinking that words and music or even human enthusiasm was not enough. I had a sense that it was only Christ that could unite all people in peace in love. Later on when John Lennon sang, "imagine all the people living life in peace", was for me to imagine God's Kingdom of unity and peace coming among us.
After seven years of studying in the seminary, I was ordained at the age of 24. Looking back, I can see how young and immature I was at the time. I had a lot of growing up to do. For a long time I remained an idealistic teenager. When I went to see U2 with the local Young Christian Workers group at Memorial Drive back in '89, a fellow priest commented "you must be the oldest teenager in Edwardstown". I was living at the Edwardstown presbytery at the time. He had a point. Painfully, I had to learn that I couldn't go on trying to please people like I used to please my parents. I had to really own with my heart, and not just my head, that I am never going to have a wife and my own children. I had to learn to let go and to trust. However, even during this period, I couldn't doubt that God had called me and is always with me and that the priesthood is right for me. In the insecurity and aloneness I feel at times, I have come to know the Lord more deeply. I can make the words of the psalmist my own.

`O Lord it is you who are my portion and cup,
It is you who are my prize.
The lot marked out for me is my delight.
Welcome indeed the inheritance that falls to me.'
Psalm 15
I can say that the priesthood is a wonderful gift to me and to the Church.
Being a priest is a very fulfilling way of life. Sure there are times when there's just too much to do and cope with, and it's easy to become discouraged when you don't see instant results, but it still is so worthwhile. I have a real freedom to give of myself and be involved with so many people and with so many different aspects of life. I am changing the world by helping people to see the dignity of their lives in Christ and by helping to build Christian community. In proclaiming and preaching the Word, I can help people to see that there is always more to this life and that in Christ there is always hope.
In particular it was my ministry as chaplain to the Modbury Hospital that helped me see the power of the priesthood. It was there that I experienced so clearly that a priest is "another Christ" and an enduring sign of God's love an presence. I'm amazed at the response people give at times to the simple signs of our faith. When people reach out and touch the little cross that I wear around my neck, when they pick up and kiss the small crucifix that I carry when giving Communion, when they kiss my hands and when they cry when I hold their hand. They are seeing in me, who I am for them. I represent for them, the caring presence of God. These people through their faith remind me of who I am, a living sign of Christ and God's love. When I listen to the dying sharing their lives, sharing their joys, and naming their regrets, I know that I am helping them make their peace with themselves and God.
God through the ministry of the priesthood brings them peace.
I am an ordinary human being and yet as a priest I am an instrument of God's forgiveness. When I offer prayers at funeral services I know that our faith offers something real, worthwhile and lasting. The bonds of love and affection that bind us together in this life are not broken, even in death.
As a priest, I know that I'm making a difference.